Outdoor Floral + Fauna Decorating Ideas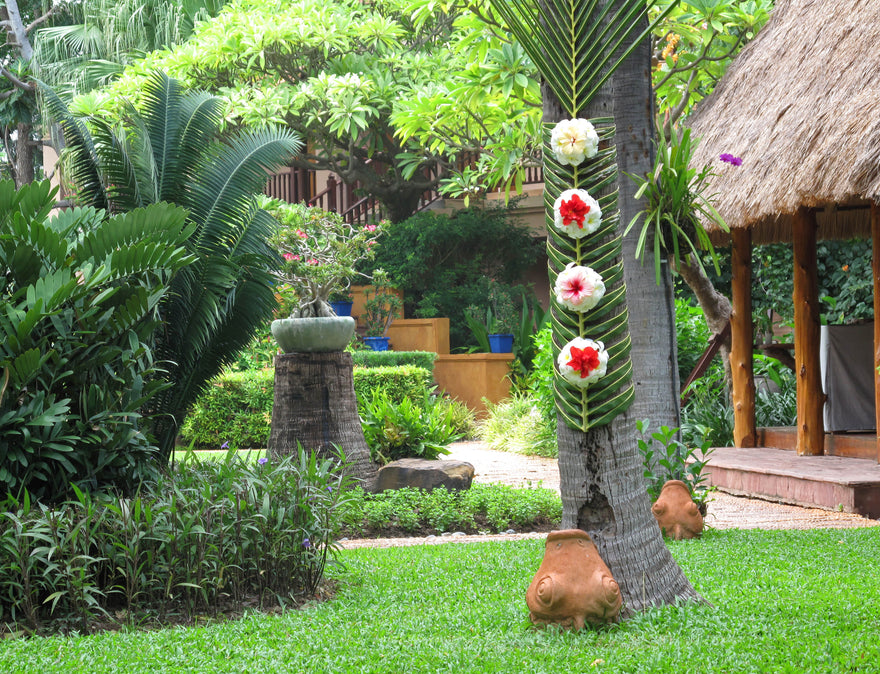 A couple of years ago, I celebrated my wedding anniversary at the Anantara Resort in Hua Hin, Thailand.  During my stay there, I noticed that the resort gardener would go around the garden daily to collect fallen flowers, leaves, branches, etc. and use these to decorate the outdoor area of the resort.  This greatly adds a beautiful accent of colors to the landscape, especially around the area where no flowers are grown.  The gardener would do several decorating techniques around the outdoor resort areas.  In this blog, I would like to show you one of the many ways the gardener decorated.  In this method, the gardener would use the lower part of a palm frond to cover the trunk of a coconut tree and adorn this part with Plumeria, Hibiscus and other flowers in various designs and colors .  Use pins or fasteners of any kind to attach the flowers to the palm frond.  This is a simple yet fun, easy and economical way to decorate an outdoor event such as a wedding, garden party, birthday party, etc.  The pictures below show this technique.  Get creative and design yours the way you like!
Leave a comment
Comments will be approved before showing up.